Planon app
The
Planon app
is the modernized and improved successor of the
Planon Live app
. This app can be used as of Planon release L93 and later versions. The
Planon app
uses web tokens via
OpenID Connect
, instead of the previously used session cookies. This innovation was introduced to keep up with modern technological standards, supported and promoted by major technology companies such as Google and Apple.

The
Planon app
supports exactly the same modules as the Planon Live app, but has a stricter log-in protocol and a modern-day authentication method. Therefore, Planon users are recommended to download this
Planon app
from their relevant app store (Apple app store or Google playstore) and start using it. To use the Planon app you need to do the following:
•
Enable SSO
. Follow this part of the manual:
SSO
.
•
In Planon ProCenter Webclient >
Cloud gadget
>
SSO
> check the box
OpenID Connect
for
Mobile
.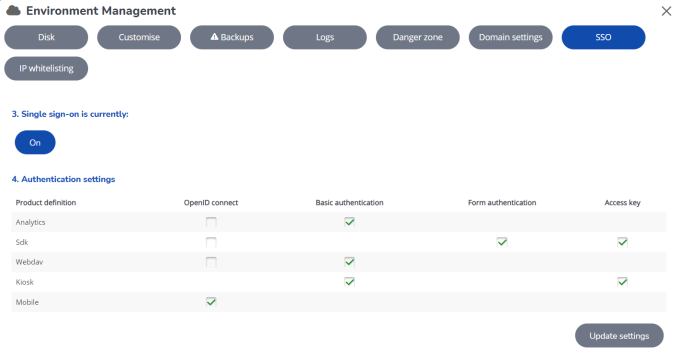 Planon on-premise customers are advised to contact Planon support (ICC) to ensure the best transition to the new app.

If you intend to use bar codes / QR codes in the Planon app, refer to this overview for the Planon Live app to see which codes are supported:
Supported bar codes in Planon Live app
.
Currently, the
Planon app
supports the following app modules:
•
Workplace
app modules:
Bookings
,
Colleagues
,
My inventory
,
Spaces
,
Requests
,
External links
,
Reservations
.
•
PMFS Live
app modules:
Work assignments
,
Assets
,
Orders
.

The
Assets
module is also available as an independently licensed module within the
Planon app
.
MDM tools
Your company might be using Mobile Device Management (MDM) tools, such as Microsoft Intune or Mobile Iron, to manage the company's devices and apps. If MDM tools are used, be aware that it is possible to use the Planon app by publishing the default Planon app through the company portal or application store provided by the MDM tool. However, the Planon app
does not support any configuration changes that are pushed by the MDM tool
(such as settings that prevent or disable screen captures, copy/paste, authentication parameters, and so on).